This is my final product:
And incidentally the only normal picture
This is what I was going for: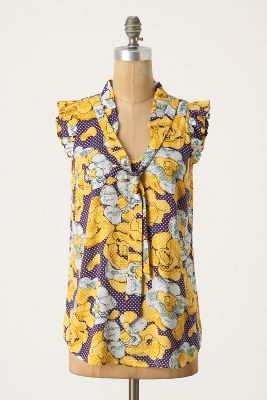 This is the story behind it all:
I always liked this Anthropologie top. But I also believe it was priced around the $100 mark. I thought about copying it, but I had never done that before, so I let it sit in my inspiration folder.
I was looking at Pattern Review for reviews of
Simplicity 2599
and came across this
tutorial
. The ladies at Presserfoot had already written a tutorial for how to make a Shelby-like top.
So I pullled out some cute cotton from my stash...
And got to work!
Now, you would think that having this tutorial readily available, mine would come out darn close. And I'd have to agree with you. But this is what I did:
Skim tutorial... skim... okay, cut a piece about that shape... gather here... skim, skim skim. Got it!
Do you understand now why mine didn't come out like the tutorial?
My collar piece was much larger than the one on the Anthropologie top, but I decided I liked it. Because the collar was so large, I left off the gathers on the sleeves. I wish I had made the ties slightly longer, but it's not worth taking it apart in my opinion.
The thing I am most proud of is the fit on this top. I had made this before, and it's really big in the back. As I was cutting this one, I realized it's because I omitted the back seam without accounting for the seam allowances. Oops. This means I have an extra 1.25 inches in the back of the first one I made, which is why it's so big.
So this time I cut a size 12, graded out to a 16 in the hips. I did a tissue fitting and brought the seams in slightly. I omitted the back seam and took out the 5/8 seam allowance on each side. I also tried it on pinned together before sewing it and made some slight adjustments, but overall I was really happy.
The front and the back pieces were the only pattern pieces I used from the Simplicity pattern. The collar piece, the ties, and the bias binding I measured and made myself.
Even though it's not exactly what I had in mind when I started this project, I'm very happy with the end result.
As an end of post treat, here's a mini-montage of pictures from Gary trying to coach me in modeling:
Steph, look away like you're thinking. Why are your arms just dangling there?!?
Try whipping your hair....
Sorry, I took the picture too fast. Try again!
Not enough hair. Try again! Be a model!
There you go, that's modeling!
Uh... Gary... you know that I'm trying to show off my shirt right? This isn't a Pantene commercial.
PS! I forgot to mention that my post on
Butterick 4989
is going to be featured on Butterick's facebook page. I feel famous!